HOME PAGE
sunkystpups@aol.com
803-317-9268
****ATTENTION****
PLEASE CLICK ON NUVET SUPPLEMENTS TO THE LEFT OF YOUR SCREEN AND READ UP ON THIS WONDERFUL PRDUCT. I AM SOLD ON THIS PRODUCT FOR SURE AND REQUIRE ALL MY PAST, CURRENT AND FUTURE PUPPY HOMES TO BEGIG NUVET PLUS FOR THE LIFE OF YOUR PUPPY!!! YOU CAN ORDER
DIR**ECTLY FROM MY WEBSITE OR CALL NUMBER, BUT PLEASE USE MY SPECIAL CODE. THEALL AUTO SHIP ORDERS RECEIVE A 15% DISCOUNT!! PLEASE REMEMBER THE HEALTH OF YOUR SUNKYST GOLDEN!!!
I AM ALSO A HUGE FAN OF THE PRODUCTS AT
NATURES FARMACY
ALL MY PUPPIES ARE REQUIRED TO CONTINUE PROBIOTIC MAX AND NUVET PLUS FOR LIFE AND PHYTO FLEX FOR FIRST 2 YEARS!!
www.naturesfarmacy.com and NuVet Plus, link on left side of screen.
************************************************************************************************
PLEASE GO TO MY LITTER PAGE TO READ MY STRICT PROTOCOL AND EXPECTATIONS IN ORDER TO BE PLACED ON MY WAITING LIST. YOU MUST FIT WITHIN MY GUIDELINES. CONTACT ME VIA EMAIL IN ORDER TO SCHEDULE PHONE INTERVIEW.
BEEDYL HAS BEEN BRED TO ROLEX AND PUPPIES ARRIVED 7/27/23 ABLE TO LEAVE 9/23/23
6 GIRLS 2 BOYS....1 BOY AND SEVERAL GIRLS AVAILABLE
PICTURES OF MOM AND DAD ON LITTER PAGE.
ACCEPTING INQUIRIES FOR SHOW, PERFORMANCE AND COMPANION HOMES
***************************************************************************************
**BUG**
SUNKYST VW, CD, RA, WC JH GOES RWB AT 2014 GOLDEN RETRIEVER NATIONAL AND ALSO OBTAINS HER TRIATHLON AWARD!!!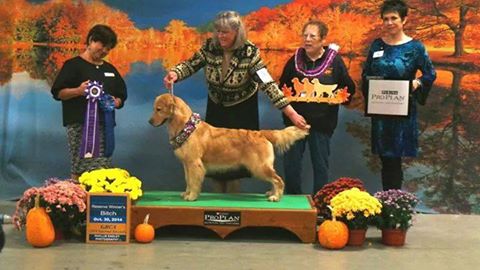 ---
SUNKYST OLDIE GOLDIES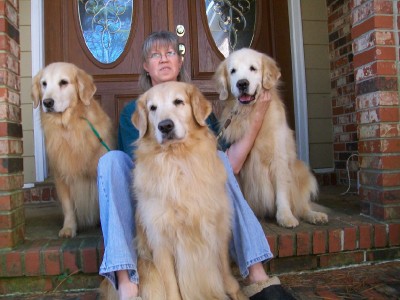 Sunkyst Final Legacy, Sunkyst Forever N Blu Jeans,
Lazydaze Sunkyst Frost
Lacy 10 y/o, Drew 11 y/o and Frosty 12 y/o in this picture.
Both Frosty and Drew have sadly left me to go to the Bridge.
Frosty was 12 y/o and Drew was 2 months shy of 12
Lacy has sadly passed at 12 y/o
Welcome to Sunkyst Golden Retrievers. My name is Sharon MacDermott and I have been a reputable breeder since 1989, producing quality, not quantity. It is of the utmost importance to me to produce structurally sound puppies, with the temperaments that goldens are distinctly known for. Of course breeding only dogs that meet the standard and have cleared all health clearances including; hips/elbows/heart and yearly eyes, all by board certified specialists in their area and recognized by OFA. DNA genetic testing for other health issues that are prevalent in Goldens are are also available and I am obtaining these also with my breeding dogs. I normally have 3-4 litters a year. References and phone interviews a must for placement of one of my precious fur babies. I occasionally have an older golden looking for a home, so please check back to see if one is available. Like all other reputable breeders, I too put my blood, sweat and tears into every litter. Each litter is raised in my home, getting accustomed to various noises, which is important in developing confident, outgoing puppies. Please click on the various areas and take a look around. I am also a member in good standing with Golden Retriever Club of America (GRCA).